"Up-beat, engaging and challenging for our pupils — this is a writer we hope to use again." Paul R. Rees, teacher.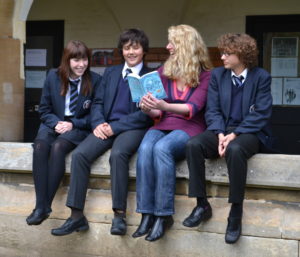 I love sharing my passion for stories and the creative process and am available for presentations and workshops. I have spoken to audiences, large and small, visited schools, run workshops and competitions, mentored students, spoken on the radio, at conferences and universities.
Program options
I want everyone to get the most out of my visits, both students and educators. My presentations listed below have proved popular, although I am happy to tailor visits to curricular requirements, grade level, or specific needs.
Story-Builder Workshop Series
This is a creative writing five part program, comprising complementary or standalone sessions as required, including:
The Big Story Idea – Brainstorming inventive stories
Pleased To Meet You! – Using engaging exercises, meet new and memorable characters
Monsters and Baddies – Delicious antagonists are fun to write
World-Building – Give authority to your story with a unique, sensory setting
Causing Trouble – 'Happy Ever Afters' belong at the end of a story. Find out how to create a great hook and gripping stories with conflict.
What Is It Like To Be An Author?
In this presentation, I give the lowdown on the writer's life. Where did my story ideas come from? What is in my Bag of Writing Tips? What is it like to be an author? What are the best bits and the hard parts? I talk about my journey to being a writer, about perseverance and revision, and also about following your dream.
How to Write Well
Want to improve your writing skills? Whether you are interested in fiction or expository composition, written communication is an essential life skill. Learn how to express yourself well on the page and engage your audience. These sessions work well for private tutorials.
Bonus competitions
Many schools take part in follow-up competitions after my visits. Winning entries are 'published' on my website. Click here to see examples.
Testimonials
Please click here for testimonials of my author visits and workshops.
Interested in booking a visit?
Please drop me a line at sarah@sarahhammond.org/ if you would like to discuss a visit. Discounts are available for local visits in the Chicago area.