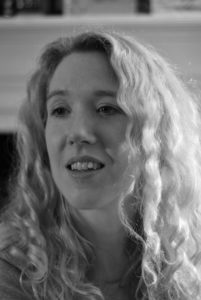 I was born and grew up in Lincolnshire, England. Now I live in Illinois, U.S.A. Both places have flat landscapes and big skies.
As a toddler, I wore out my copy of Beatrix Potter's The Tales of Peter Rabbit through enthusiastic overuse. My mother had to buy me a replacement copy. I am just as passionate about books now as I was then. When I emigrated to America, the first thing I did to feel at home was join the local library.
For my first grown-up job, I worked as a lawyer in London with dry serious words. However, after a while, the lure of sparkling story-words tempted me away to do an MA in Writing for Young People at Bath Spa University. I graduated with Distinction and published some of my stories.
These days I live outside Chicago with my husband, stepson, two cats (who also crossed the Atlantic to live Stateside) and an English Setter called Higgins. I write in my study in the attic.
Facts you didn't know about me:
My first car was green.
I have a sweet tooth and wish that cakes were as good for you as vegetables.
I hate early mornings.
One of my cats was indignant the first time I left her with a cat-sitter and went on holiday. When I got home she sat in the middle of my computer keyboard and dug the 'H' key out with her claw.  I used this laptop to write my first novel, T*e Nig*t Sky in my *ead.
Although my pets have an excellent taste in books and are avid readers, I have never seen them read any of my stories.